Sounds of Salzburg, Austria
The hills are definitely alive in this magical place! The third city of our backpacking trip through Eastern Europe was adventurous and exciting. My legs were burning by the end of the three-day weekend and for good reason. Take advantage of the music and appreciate the various outdoor activities this landscape offers.
If you have time, try to watch The Sound of Music film before your arrival. Luckily our hostel, YoHo, played it every night. We had a blast belting out "the hills are alive" every time we saw a mountain, which was quite often!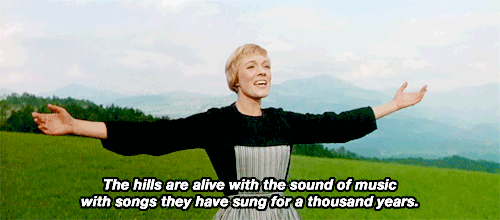 ♪ Do ♪ Mirabell Palace and Gardens
Salzburg's opulence is best enjoyed with a stroll through the pristine gardens of Mirabell Palace. The Baroque design encompasses a variety of colorful flowers, shrubs, and fountains. Sit on a wooden bench and relax your feet.
♪ Re ♪ Die Weisse
Austria loves its wiener schnitzel and beer gardens. Soak in the sunshine with a cold beer in hand or in our case, wine. The stuffed meat dumplings in sauerkraut and pork cordon bleu with boiled parsley potatoes were intensely flavorful. Not a crumb was left on the plates!
♪ Mi ♪ Getreidegasse
Running parallel on the south side of the Salzach River is Getreidegasse; a popular street full of antique shops, cafes, and residences. Mozart was born on this historical street which is strictly for pedestrians. Marvel at the architecture and ornate wrought iron guild signs while listening to street performers. Enjoy the hunt for a unique souvenir!
♪ Fa ♪ Salzburg Cathedral
Rebuilt in the 17th Century, the Baroque style of the church is magnified with its copper domes on the towers and marble facade. The inside radiates light with its impressive dome and ornate motifs. The ethereal sound of seven bells ringing periodically throughout the day enhances the charm of the city.
♪ So ♪ Hohensalzburg Fortress
Beginning in 1077, the Hohensalzburg Fortress was built by several archbishops over the years to provide security. The overall size and layout upon the hill is impressive. A funicular tram takes you up to the top for breathtaking views. The castle audio tour, Rainer Regiment museum, and marionette exhibition offer historical context. For a picture perfect ending, watch a romantic sunset that you will never forget.
♪ La ♪ Bike ride to Lake Mondsee
Burn off your apple strudel with a leisurely bike ride. There is no better way to see the countryside. We rented bikes at our hostel and made our way to Lake Mondsee. The steady incline of the 22 mile journey took us about four hours. Our poor butts! My finicky chain and Brad's semi-flat tire required us to make a few pitstops. After refueling at a cafe, head down to the lake and soak your feet. Follow the abundant bike trail signs back to Salzburg and appreciate the downhill ride.
♪ Ti ♪ Eagle's Nest Hike
For an experience of a lifetime, take a guided hiking tour with Claudio of Monkey Business Adventure Tours. He takes care of the logistics and accompanies you on a two-hour climb up the Bavarian Alps to Adolf Hitler's impressive Eagle's Nest. The feeling of accomplishment is AMAZING! Claudio provides World War II facts as well as interesting folklore. He also shows you the remnants of Hitler's house and bunker.
♪ Do ♪ Mozart Concert Dinner
You cannot visit Salzburg without incorporating Mozart in some way. Enjoy his classical genius with a three-course menu with recipes from the 18th Century. Dine with candlelight in the Baroque Hall of St. Peter Stiftskulinarium. The magnificent music and ambiance create a romantic evening.
Salzburg is a cultural gem and has a lot to offer visitors. The grand mountains, polished cobblestone streets, and nearby attractions are bountiful. This city is hard to forget and embodies European tradition.